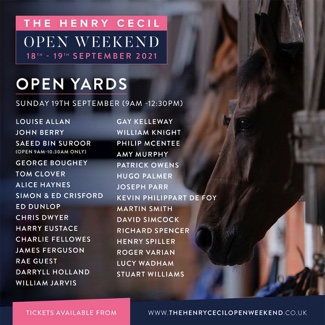 TRAINERS YARDS
SUNDAY ONLY, 9AM -12:30PM
Trainer's yards will open from 9am – 12:30pm on SUNDAY ONLY.
30 yards confirmed: Louise Allan, John Berry, Saeed bin Suroor (9am -10:30am only), George Boughey, Tom Clover, Chris Dwyer, Alice Haynes, Simon & Ed Crisford, Ed Dunlop, Harry Eustace, Charlie Fellowes, James Ferguson, Rae Guest, Darryll Holland, William Jarvis, Gay Kelleway, William Knight, Phil McEntee, Amy Murphy, Patrick Owens, Hugo Palmer (10am-11:30am only & parading horses @11am), Joseph Parr, Kevin Philippart de Foy, Martin Smith, David Simcock, Richard Spencer, Henry Spiller, Roger Varian, Lucy Wadham, Stuart Williams.
Please note: Saeed bin Suroor's yard is only open from 9am-10.30am.
                      Hugo Palmer's yard is only open from 10am-11:30am.
We will have complimentary shuttle buses running from the Severals on Sunday morning to help visitors travel to yards.
A printed programme (£3) showing the location of the racing yards and listing the horses at each yard is available to purchase at all car parks and at the entrance of each yard.
Back